If you're looking to get a special gift for a wedding or for a loved one then this is your calling.
Welcome to Affordable Caricatures
. We create these traditional
caricature gifts
at a very affordable price. You're probably thinking, "surely if they're so affordable, that should mean that they lack quality?" Not so. We have many years experience creating caricatures, especially for
wedding gifts
and have had a plethora of very satisfied customers.
We create these caricature gifts originally by hand-sketching them and then finally digitizing them using Photoshop. Our Caricatures can be sent over as digital files, printed onto A4 or framed at the relevant size.
Why Should You Order A Caricature Gift From Us?
There are many reasons why we think you should get a traditional caricature gift from us rather than elsewhere. I have listed these below.
Our Caricature gift prices are very affordable. Even if they aren't the cheapest around, they certainly offer the best value for money.
We will have your caricature completed usually within 2-4 days. That's an exceptional turnaround time. Though please allow up to a week. Especially for large orders.
We offer excellent one-to-one customer service. We're very friendly natured so we're inclined to help you the best we can and always give you the best advice.
We're very experienced Caricaturists. We have been drawing caricatures for many years so we can be trusted to do a great job of characterising you.
In the unlikely event that you are unhappy with your caricature, we will re-work it until you are satisfied.
You couldn't have a more
personalised gift
than a caricature gift. Just let us know how you want to personalise it and we'll do that for you no problem.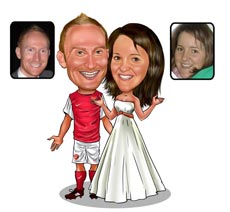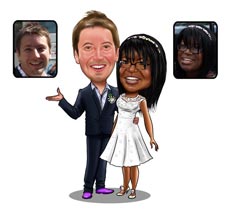 "How Do I Know It Will Look Like Me?"
Well, as we mentioned, we've been doing traditional caricatures for several years now so we've go the knack for it. You can see how well we capture the likeness by clicking on the images in the Examples Gallery. Each cartoon comes with their photo. Plus we've added some celebrity caricatures for extra benefit.
If, in the unlikely event you're not pleased that the caricature looks like the person in question, then we will re-work it and tweak it until you are satisfied. Customer satisfaction is our highest priority. We will never draw our caricatures to offend.
What we must reiterate though is that the photo's you send us will ultimately be the basis of your caricature. So bear that in mind when you send us the photo's. We regret that we cannot work from dark, grainy or small photo's.
Clear, high resolution photo's are essential.