Mulhall Portrait Artist

William Mulhall
has built up a major international reputation as an innovative and dynamic artist.
He is the first rock 'n' roll artist. "I was born within an earshot of a jukebox. I was raised on rock and roll". He draws inspiration from the life of music bars, rock concerts and nightclubs of modern Ireland.
Find me on Facebook.
Mulhall's
artistic world is populated with rock stars and party girls, dancing their lives away in neon drenched night town. But Mulhall is careful not to copy the lifestyle of his characters. "If I was to party like the characters in my pictures, I'd have been dead long ago. Those guys never stop."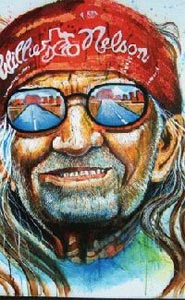 Mulhall
uses vibrant colours in his work to depict the modern world and has found that is only recently that his palette has found acceptance. "I have been exploiting colour for more than 30 years but there was quite a big resistance to colour. However, the trend now seems to be changing."
As the real world changes to become more like Mulhall painting so the artist himself works hard to keep ahead of the trend pionerred. "My work continually surprises me. I am always trying to break boundaries and move forward in direction."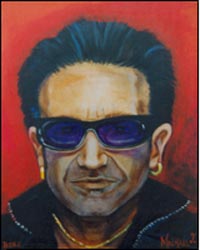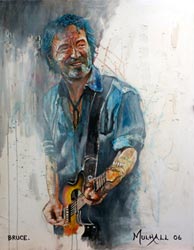 Illustrated, feature articles on his life and art have appeared in Moro, Guitarist, NME, Hot press, in Dublin, The Sunday Tribune, Business Plus and New York art guide. A major interview with Mulhall in discussion with Brian Lally was broadcast on RTE Radio 1's flagship Arts Show Rattlebag in August 2001.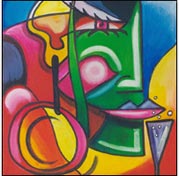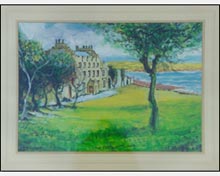 Contact

More Wedding Lists in Northern Ireland near Mulhall Portrait Artist
Bumblebee Creations

Superior quality, affordable wedding accessories & gifts
Personalised Bathrobes & Slippers
Personalised Wedding Socks for the boys!
Unique Personalised Napkins
Handmade Personalised Wedding Garters

---

Hanna & Browne - Newtownards
59 High Street, Newtownards
Favours & Wedding Supplies
at Joseph Long & Sons, Newtownards
Warden Brothers
45-47 High Street, Newtownards
Wardens of Newtownards
45-47 High Street, Newtownards
Smith Patterson
18 Market Square, Lisburn
Hanna & Browne - Lisburn
Unit 8, Bow Street Mall, Lisburn
The Antique Gallery
505 Lisburn Road, Belfast
Equinox Shop & Cafe - Wedding List Service
32 Howard Street, Belfast
House Of Fraser Belfast
Unit 41 Victoria Square, BT1 4QG
Hanna & Browne - Belfast
21 Fountain Street, BT1 5EA
Debenhams
Unit 34 Castlecourt,
Hanna & Browne - Bangor
Bloomfield Shopping Centre, Bangor
The Cape Table
60b High Street, Holywood
CFC Wedding Lists
6b Starplan Complex, Newtownabbey
Ditronics Electrical
1 Market Street, Lurgan
ETC
20 High Street, Carrickfergus
Dalzells of Markethill - Wedding Lists
62-68 Main Street, Markethill
Wedding Day Needs Ltd
29 Mullaghsandall Road, LARNE
Posh and Pans
41 Castle Road, BT80 8TN
CFC Interiors
73 Church Street, BT80 8HT
Drum Lighting & Home Accessories
2 Molesworth Road, Cookstown
No 8 Fine Jewellers and Bridal Boutique
8 James Street, Cookstown
All Sorts Embroidery
24 Ferndale Road, Dublin 11
Irish Honeymoon Registry
11 Vernon Ave, Clontarf
Blastit4u
79 Pinebrook, Trim
Arnotts
12 Henry Street, Dublin 1
Clerys
18 - 27 Lower OConnell Street, Dublin 1
Diamond Djs
Diamond DJs, St Albams Mews, Dublin
Wedding Wish List
65 Moy Glas, Lucan
Manor Wedding Flowers
Munville House, Lisnaskea
More Wedding Lists in the United Kingdom
More Wedding Lists in Ireland
More wedding companies in Downpatrick
More Wedding Lists in Downpatrick
0.546875 3.226.243.130 companylisting Ban:1, But:2 18/09/2019
William Mulhall, willie mulhall,mulhall,will,willie, Ardglass,county down,down,co down, Paintings, Masterpieces, Old Masters, Works of Art, fine art, Museums, Art Galleries, Belfast,antrim,armagh,derr
"William Mulhall, willie mulhall,mulhall,will,willie, Ardglass,county down,down,co down, Paintings, Masterpieces, Old Masters, Works of Art, fine art, Museums, Art Galleries, Belfast,antrim,armagh,der