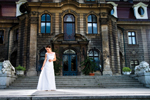 Before you shoot off across the countryside cursing your satnav and it's tendency to become irate as it announces that it is 'recalculating' your route, have a think about the aspects that make your venue perfect.
Shortlist destinations with a view to visit your top three to confirm they can facilitate your requirements. If it helps take a piece of note paper with you so that you can remember the conversation.
Size
The first aspect that you need to clarify is the size of the venue. Will they be able to accommodate your needs? Ask how many they will be able to comfortably seat for your meal. Extra seats and bumping elbows generally result in messy clothing and large dry cleaning bills. Remember that you will most likely be inviting extra guests to the evening reception and this will require extra space. Bands and DJs also tend to require quite a bit of room. Check that the venue can accommodate you, your guests, your entertainment and still have room for a dance floor.