One of Northern Ireland's Biggest and Best Bridal Shops renowned for top quality bridal wear and excellent friendly service. With around 4000sq ft of shop-filled with stock for you to see and choose from.
Joanne is well known for bespoke bridal dresses however she has a new range of ''off the peg dresses'' and a collection of ''vintage dresses''. You will also find a fantastic range of bridesmaids, flowergirls, Mother of the Bride and Mother of the Groom outfits. Even the grooms are made feel special with her range of Menswear which is for sale or to hire.
So if you are getting married in Northern Ireland, make sure you visit this bridal shop which is located opposite the Strangford Arms Hotel as you come into Newtownards from Belfast on the corner of Church Street and Frederick Place.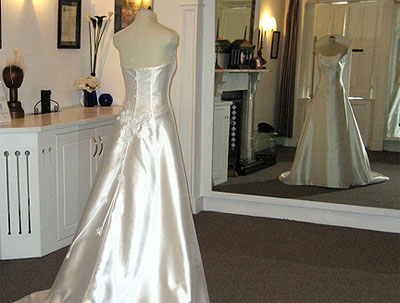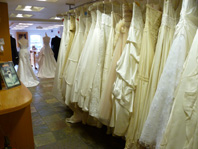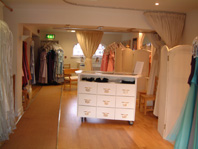 Joanne is one of the few bridal designers/bridal stylists in Northern Ireland. She has a BA Hons Degree in Textiles & Fashion. With years of experience as wedding designer and dressmaker she can make you a made to measure dress, do a matching bespoke bridal veil and top it with a custom made bridal headdress.
Accessories such as wedding shoes, bridal underwear, bespoke bridal veils, wedding hats, fascinators and also bespoke jewellery are all available. Among some of her more specialist custom made items are Christening robes, ring cushions, wedding horseshoes, pulpit falls.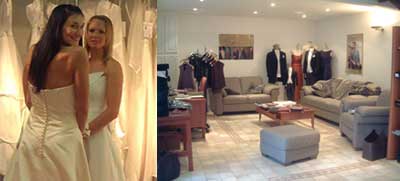 Renowned for her embroidery and her attention to detail this northern Irish bridal designer has attracted customers from America to Australia. To make your wedding unique, have your own personalised detail embroidered on our bridal dress or have a bespoke wedding veil.
Call for a bridal consultation from one of Northern Ireland's Bridal Couturiers. Be styled for a special occasion, such as your daughter or son's wedding with your own northern Irish bridal stylist.
It is best to make an appointment to see Joanne - tel. 028 9181 9620.