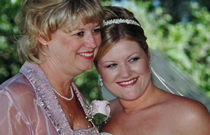 Your child's wedding is a major milestone and it's important to strike the balance between helpful parent and mumzilla.
Provide guidance
Be a support system, while the opinions of both mother-of-the-groom and the mother-of-the-bride are to be respected it's your child's big day and they are the puppet masters.
You may imagine witnessing the bride being given away in an historic venue with 300 guests while she may be dreaming of a simple affair on the beach with immediate family. You can not expected them change their nuptials to suit you.