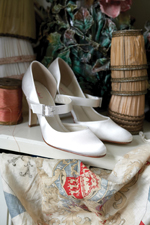 If chosen correctly, wedding shoes are not only the perfect complement to your gown, they will also help your posture and correct height issues there may between you and your partner. Before you hit the shops there are a few things worth consideration:
Season
The time of year that you choose to get married will have a massive impact on your choice of footwear.
Think about the season before you go shopping for your shoes The shops may be stocked full with sandals and straps but if you are getting married on 31st December your toes will be blue.