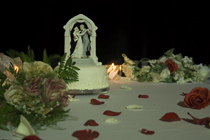 Wedding food should be inspiring. Your catering choice will be one of the things guest remember so make it count.
Food can take up a whopping 45% of your wedding budget. You can choose from a buffet meal, food stations, sit down dinner and/or cocktail reception.
If you have found a caterer you like do some research. Ask for references, read testimonials, and review the website.
How were their culinary skills put to use at other weddings? Look at pictures of presentation. Visit the caterer to ensure the premises are clean and tidy.