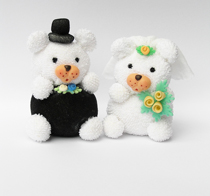 Give your wedding a personal touch with some exciting favours.
Traditionally the bride and groom give small gifts to guests as a gesture of appreciation during the wedding ceremony or reception.
European aristocrats gave bonbonniere as the first wedding favour. This was a small trinket box made of crystal, porcelain, and/or precious stones. The boxes contained sugar cubes which were expensive during this era. As the price of sugar reduced throughout centuries couples from all backgrounds embraced the trend. Almonds then became the favour of choice signifying well wishes for the bridegroom's new life.