Patricia Daly Professional Harpist

Having huge success with her solo harp playing, winning two successive All-Ireland Titles, Patricia Daly has been providing professional, reliable and cost effective entertainment within the wedding and corporate music industry from the late 70's to the present day.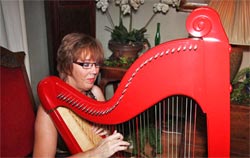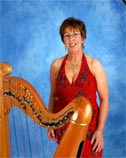 As one of Ireland's premier harpists Patricia Daly is very much in demand as a performer, teacher and session musician.
Among all of this she continues to successfully teach & perform to the corporate and traditional folk industries throughout Europe and North USA.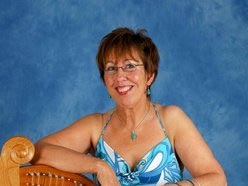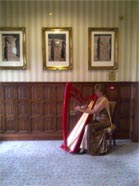 Weddings
A harp, voice or piano will provide you with that extra sparkle of elegance creating the perfect atmosphere for you and your guests. The harp in particular, which is one of the oldest instruments in the world, will stimulate guests leaving them with cherised memories to take away with them. This delicate sound can provide enchanting music, giving that key factor of elegance to your special day.
Nothing sets the mood or expresses emotion quite like the soft calming music of Patricia Daly who will totally enrapture you and your guests. She will help you choose music that is meaningful and memorable to you.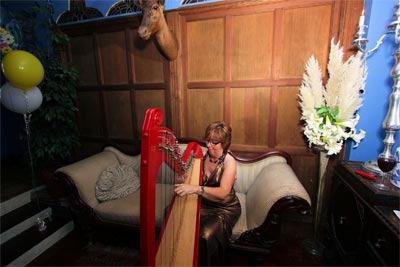 All Ireland Champion - Performed for Pope John Paul 11
Scooped up recent Entrepreneur Award from U.N.L.T.D.!
"A warm heart-felt thank you to all my existing wedding/corporate clientele and a warm friendly hello to all new clientele wishing to book my services; Thank you very much, so sweet of you!"
An accomplished and renowned professional harpist, singer and pianist holding a Master's Degree in Performance from the University of Limerick, Patricia Daly has travelled and performed extensively with the prestigious Armagh Pipers Club. Her travels have taken her as far as outdoor festival arena's in Europe and North Africa; to North American recording studio's; to exotic fairytale castles, excellent hotels and intimate church venues at home in Ireland.
She offers:
Church Ceremony/Civil Ceremony/Wedding Blessing:
Short listing from some of the Church Music Patricia provides:-
Pachabel's Canon in D
The Bridal March
Deus Meus Adiuva Meas
Ephesians Prayer
On Eagle's Wings
Peace I Leave - Lamb of God

Please visit www.patriciadalyharpist.com/weddings for further info


Wedding Ceremony & Cocktail Drinks Reception:
A selection of Easy Listening, Folk, Irish Traditional, Light Classical


Cocktail Drinks Reception:
A selection of Easy Listening, Folk, Irish Traditional, Light Classical


Wedding Breakfast:
A selection of Easy Listening, Folk, Light Classical, Irish Traditional


Funerals/Memorable Services:
A selection of haunting Easy Listening, Folk, Irish Traditional, Light Classical