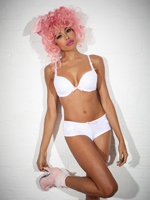 Bridal lingerie has a dual role, it should provide silent support during the ceremony and reception, yet speak volumes to your groom on your wedding night.
Choosing the right bridal lingerie is imperative as it will provide you with a firm foundation to accentuate your best features.
Choose correctly and it will also hide the lumps and bumps that all women have but would rather not speak of. If you are not buying your lingerie in the same store as your dress, take your dress or at least a sample of the fabric with you when you try on your lingerie. Do not be tempted to leave your choice to the last minute and go for a more economic option; these aren't just any undies, these are perhaps the most important pair of undies that you will ever purchase.