Anderson Video Services

Weddings
We take care to ensure that you get a recording of your day which will bring back happy memories for many years to come.
We will attend your rehersal to ensure that we know exactly what you require and what we can do to fulfil your wishes.
At present, the standard package, listed to the right, costs £800 inclusive.
[A £100 deposit is required when the wedding is booked.]
Please phone if you have any queries or to check availability.
Standard Package High definition – two cameras
Opening shots & titles to set the scene.


Filming groom, best man etc. and guests as they arrive for the wedding ceremony.


Filming the bride and bridal party arriving.


Filming the wedding ceremony.


Informal filming of bridal party and guests while the photographer is taking formal photographs.


Filming a 'Video Guestbook'.


Filming the receiving line.


Filming the entrance to the wedding breakfast.


Filming the speeches.


Filming the first dance and the evening 'party'.


Music of your choice as required.
We provide you with a fully edited and authored Blu-Ray disc and a standard definition DVD, both with chapters and presented in a case of your choice. We give you six furthur copies of the standard definition DVD and extra copies can be ordered at minimal cost.
Other Services offered
We offer a range of services, from small single camera shoots to large multi camera events. Please contact us to discuss your needs and the relevant priceing.
You will have a High Definition Blu-Ray disc or a DVD in standard definition, or any number of disks you wish to order. We can give you a price quote based on time required or a price for a complete package.
We believe that sound quality is also vitally important for your film - we have many years of experience in sound recording and will give you CD quality sound on your DVD.

Feature Video Article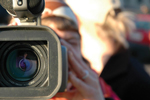 Videography would seem like a new and recent addition to weddings. In fact it has quietly been recording all the happy memories for at least 30 years.
Whilst it may be tempting to ditch the videography if you are on a tight budget, or ask a friend to step into the gap with an amateur video, it is worth bearing in mind, if you end up on 'You've been framed' because you or your groom passed out at the altar, you at least want him to look good. For this you need a professional.
On watching your wedding video, you will pick up on all the little things that you missed. Your wedding day, has a nasty habit of passing you by in a blur. It is nice to have a keepsake/reminder of how happy you both were. If you do choose to book a professional arrange to meet with them and view their work. You should be able to tell from their portfolio if their style of videography suits you.
More Video in Northern Ireland near Anderson Video Services
Deja Vu Camera Crew

| | |
| --- | --- |
| | Our vast experienced and enthusiastic team of cinematographers, photographers and editors take an artistic approach to capture valued moments and create an unforgettable memory.....and thats our promise. |

---

E VISION WEDDING VIDEO PRODUCTIONS
9 Maloon Way, COOKSTOWN
E Vision Wedding Videos
9 Maloon Way, COOKSTOWN
Wheatfield Video Productions
Magherafelt
Motion Media Productions
NORTHERN IRELAND
Riverdale Video
Randalstown
Starlite Videos
Randalstown
A R Media Productions
44a Derrylettiff Road, Portadown
Benburb Productions
91 Drumflugh Road, Dungannon
Mark McKeown - Serene Photography
16 Moeran Park, Portadown
Shake & Bake Productions
15 20 Antrim Road, ANTRIM
Scattered Images
29 Oakfields, Craigavon
KMAC vision
20 Streefe Road, OMAGH
Brendan Black Photography
159 Battleford Road, Armagh
Maldjak Video And Photography
14 Richhill Park, Derry
Inchequin
Armagh
Phvideo.Net
10 Carbry Heights, Keady
Videoedge
2 Richmond Chase, Tandragee
All Occasions Video
11 Carlisle Road, BT39 0AW
Key Moments
130 Knowehead Road, Broughshane
Murphy Videos
20 Oriel Park, EMYVALE
Campbell Wedding Services
22 Hawthorn Hill, Belfast
I Do Wedding Dvds
4 Drummanan Mews, Omagh
Redapple Films
26 Newry Street, Banbridge
Blue Moon Productions
Lisburn
Red Apple Films
42 Ashgrove Avenue, BANBRIDGE
Executive Video/DVD Production
16 Braehill Road, Belfast
Capture This Productions
609 Doagh Road, Newtownabbey
QML Videos
QML Videos, Ballymoney
Montgomery Media
Holmdene Gardens Belfast, Belfast
Memory Wishes
Adelaide House, BT12 6SJ
More Video in the United Kingdom
More Video in Ireland
More wedding companies in Cookstown
More Video in Cookstown
0.5625 3.215.182.36 companylisting Ban:1, But:3 07/12/2019
videography, wedding videography, northern, videographer, county, armagh, Magherafelt, Cookstown, Craigavon, wedding videos, wedding video northern ireland, wedding videos n. ireland, wedding video n.
"videography, wedding videography, northern, videographer, county, armagh, Magherafelt, Cookstown, Craigavon, wedding videos, wedding video northern ireland, wedding videos n. ireland, wedding video n