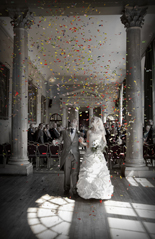 Wedding confetti is said to represent the hope that a new couple will have a fertile marriage.
It is available in all shapes and sizes making the choice of confetti as individual as the couple themselves.
Traditional
Confetti is the Italian name for sweets which are thrown in the country over the couple as they emerge from the church.
Before the use of modern confetti in the UK the married couple were showered with flowers, petals, rice or grains to bestow prosperity upon them.
Modern