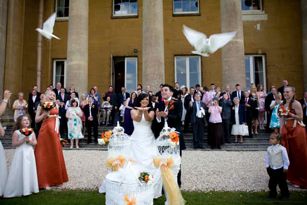 Dove expert Lovey Dovey UK reveals how you can indulge in the ultimate symbol of love, peace and fidelity.
Rod and Lynne Morgan founded Lovey Dovey in May 2007. They were the first legitimate white dove release company to set up in Wales and have provided doves for over 600 ceremonies.
How did you get into the wedding industry?
My husband has kept homing pigeons for over 25 years, and he is absolutely fantastic with them. I always wished there was something we could do that would involve his pigeons, and we stumbled across a site (Calgary Doves in Canada) from where we got the idea.