Canterbury Tails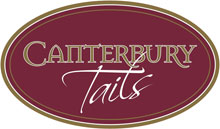 Once upon a time…
There was a room and a special celebration was being planned. Needing enhanced with splendour and sparkle the virtuoso was commissioned. Complementing and showering tables with fragrant rose petals she set the scene with atmospheric light and flickering candles on each table. Around the room swags of organza draped with flowers softened the decorated walls. Topiary trees stood tall, hooded with romantic lace and clasped together with tasteful bows. And for the grand finale, where best to seat the guests of this special celebration than on pleated and fastened damasks and linens, embraced by amorous bows. Ah yes, splendour and sparkle the celebration began…
and they all lived happily ever after.
Canterbury Tails offers you the opportunity to add that extra touch to make that day all the more special for you and your guests. We can help you create a distinctive look.
We offer for hire, quality linen chair covers with a variety of bows and dressings. Our covers transform ordinary hotel/meeting chairs into beautiful accessories that will bring an exquisite look to Your reception.
Based in the North West, Canterbury Tails are a rapidly growing business offering quality service accompanied by quality products. We specialise in the complete dressing of functions including the chair covers, table dressings (e.g. candle holders/hurricane jars, line covers with bows) and we aim to complement any occasion. This includes matching colours in the table dressings. We fit and move all hired product to ensure there is no fuss.