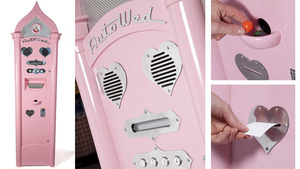 Celebrate a marriage of convenience with these top ten wedding gadgets and gizmos.
1) AutoWed Wedding Machine
This novelty-wedding machine offers a 'quick hitch'. You get a couple of rings and a personalised certificate for a £1. It's not legally binding but Concept Shed's Cadillac-pink retro machine complete with a small portrait of Jesus Christ makes wedding planning so much easier.
"We came up with the idea last year and built the unit this spring specially for Marvin's Marvellous Mechanical Museum in Detroit, USA (marvin3m.com)," a Concept Shed spokesman said.