Alphia Events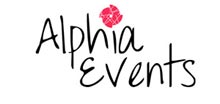 At Alphia Events, we recognise that you are special, and we think your wedding should be too! That's why we create inspiring and unique weddings, where we capture your personalities, vision and values! We want to craft a memorable and beautiful day, creating an unforgettable experience for yourselves and for your guests. Think of us as experience designers, with a style and décor tailored to your tastes.
We also plan your wedding, dealing with all the nitty gritty organisational details and logistical stuff. With Alphia, you won't be having to deal with stress before or on your wedding day and will be able to just kick back and enjoy the beautiful moment!
We offer a range of already tailored packages to meet you wherever you are in your wedding planning, but can also tailor one especially for your needs. You pick and choose with what and when we will help you - think of us as a fairy godmother who's there to serve all your wishes!
So whether you're an elegant and traditional gal, a quirky rock chick, or even a little bit of both, we would love to be a part of your wedding and to help you create the most important day of your life!
Alphia Events is a wedding planning and design company based in Northern Ireland, but we are able and love to travel! Please get in touch or visit our website to find out more about Alphia Events - wedding planners with a difference - and learn about the range of services we offer; anything from Full On to Best Friend to Just Be There.