Welcome to Candle-Crafts
Candle-crafts offers you a selection of high quality personalised and occasional candles. We provide a service which works alongside you to produce a bespoke meaningful gift, which will be used and treasured for years to come.
We cover many topics and are very happy to assist you with any ideas of your own, knowing that the giving and receiving of a personalised gift is just that extra bit special for your loved ones.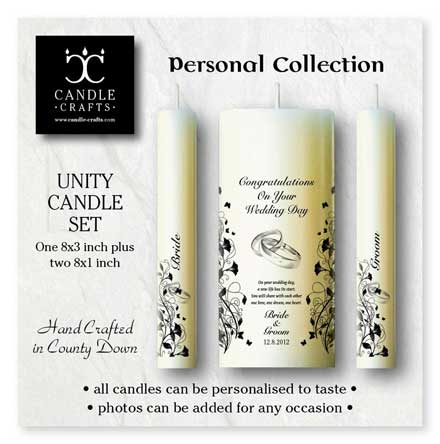 Wedding Candles
Our personalised wedding candles can add the finishing touch to that perfect day.
The unity sets symbolise the joining of the bride and groom together as their hearts and souls become one. Our wedding candles can be sold as one or as a set, we also provide:
Mother of the bride/groom
The bridesmaids
The table candles
The guests favors
Candle holders/candlesticks
All candles personalised with own names, date, colour and design.
Please give plenty of time to get candles made before the big day.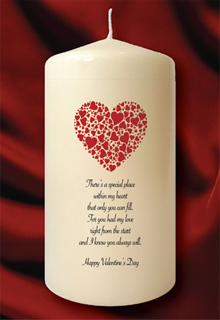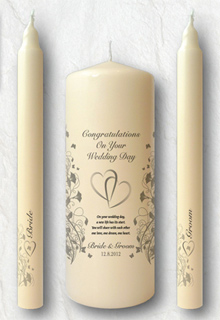 Personal Candles
This section of candles is a great way of showing someone you really care about them, by giving them a truly thoughtful gift. Personalised candles covers a large area of occasions from new baby, get well soon, engagement, proposal to memorial candles. Really anything you want put on a candle, we can do it.
Candles can be personalised with:
Own text
A special verse
Photos
A child's own picture (drawing)
A pet's paw print
A child's foot or hand print
Providing the most wonderful keepsake for anyone's home.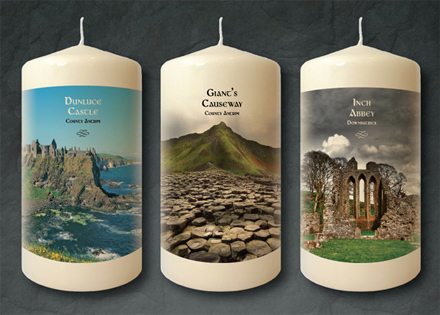 Candles of Ireland
Candles of Ireland is inspired by the beautiful area in which we live. Co Down has many historic sites and attractions.
The Candles of Ireland range came about by trying to showcase some of these beautiful places.
Find us on Facebook